The San Jose Scene: Dear Deceased
The best fucking stoner rock band you've never heard of. These guys cranked out insanely great live sets for a couple years before they dissolved. Luckily they also recorded a demo with the ubiquitous Bart Thurber. Their cassette was one of the treasures of my collection.
Back in '91 or so my friend Nini was all excited about this tall blonde guy we'd see at the downtown SJ clubs; Nini thought he was the hottest thing in town. A couple days after my friend moved to Portland I was at a show at F/X where the opening act was an instrumental Stoner Rock band. After a couple tunes the hot blonde guy wanders onto the stage, picks up the mic and proceeds to be Erik with the amazing voice. Nini was bummed to miss out on that.
I picked up their first three-song demo at a show. It bounced around between my car and house for a few years until I quit listening to cassettes. In 2007 or so I dug out my box of tapes, borrowed a deck from my neighbor, and digitzed everything. The sound from the 15 year old cassette wasn't great, but it was amazing to hear how well the music had stood the test of time.
Sometime in '93 or so Dear Deceased's bassist, Mitch, told me they had recorded a second demo. Alas the band broke up before I could get hold of it, and I lost track of the guys after that. Over the years I tried a few times to track down the demo or the band, with no luck. In 2017 I made another stab at finding them. After some fruitless searching I looked at the image of the cassette label which read "Recorded at House of Faith by Bart Thurber". Holy crap, I'd never thought about that! Bart Thurber is legendary for recording nearly every band in the Bay Area. Maybe he's still around…
And indeed, Bart Thurber is still recording in the Bay Area. I sent him an email, and not only did he remember the band, but he'd recently gotten another inquiry about them. He went through his archives, found the first and second demos, and gave us copies. The other guy was still in contact with the singer, Erik, and he supplied the titles for the tracks (Bart only had track numbers). As an added bonus there were two more tracks on the '92 demo.
After they broke up some of the members continued on in the music world. Mitch French (bass) went on to sing for Operator Generator. As of 2017 he's in a band with his son called Burn Thee Insects. George Rice (rhythm guitar) was the original bassist for High on Fire. Erik Kliever (vocals) later fronted The Bliss of Triple Six.
Mitchell French - Bass
George Rice - Guitar
Erik P. Kliever- Vocals
Ryan Landess- Lead Guitar
Chris Musgrave- Drums

1992 Demo

1993 Demo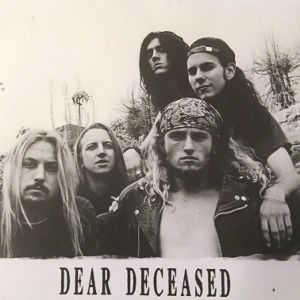 Press Kit Band Photo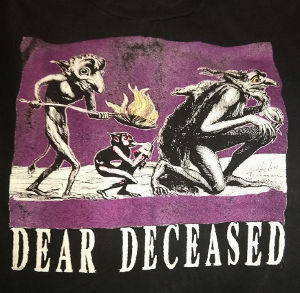 Dear Deceased T-Shirt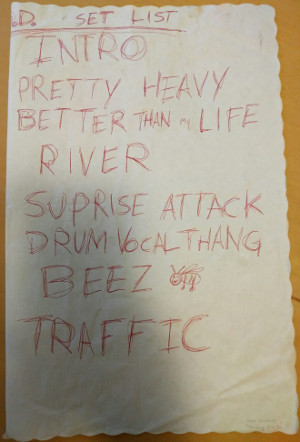 Set list, The Edge, March 21, 1992