The San Jose Scene: 187 Calm
Mike Bruce on Guitar & vocals, Ted Kamp on drums, and Jodi Durst on bass and intimidation. Background music for a knifing in a dark alley. After their cassette demo (below) they put out two albums, a self-titled in 1995, and "Thirteen Degrees Warmer" in '98. The first album is darker and more atmospheric than the demo; the second continues the trend.
In the late 2000s Mike was working in the building trades and fronting the excellent Machete Revival, which sounded like later 187 Calm; they put out an album in 2007. Later he and Jodi got together with drummer Bobby Cochran as Distance From Shelter, releasing a self titled EP in 2011. I didn't manage to see either project play live, but both albums are quite good. Jodi (at least I assume it's Jodi) has some live videos up on YouTube. Sadly there's been nothing more from Mike since then.
When I ran into Ted around 2010 he was a home loan specialist and had been playing most recently in a blues band, though he told me he had started playing with Jodi again.
As of 2020 Jodi is still active in the local scene as a musician and a teacher. She got a music degree recently and seems to be doing a lot of jazz now.
I was delighted to see 187 Calm at the 2009 Marsugi's reunion, and dismayed to find out that I'd missed a 2019 reunion show.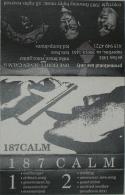 1992 Demo Cassette