SOLD - 2000 Calfee Tetra 56cm with Campagnolo Record 10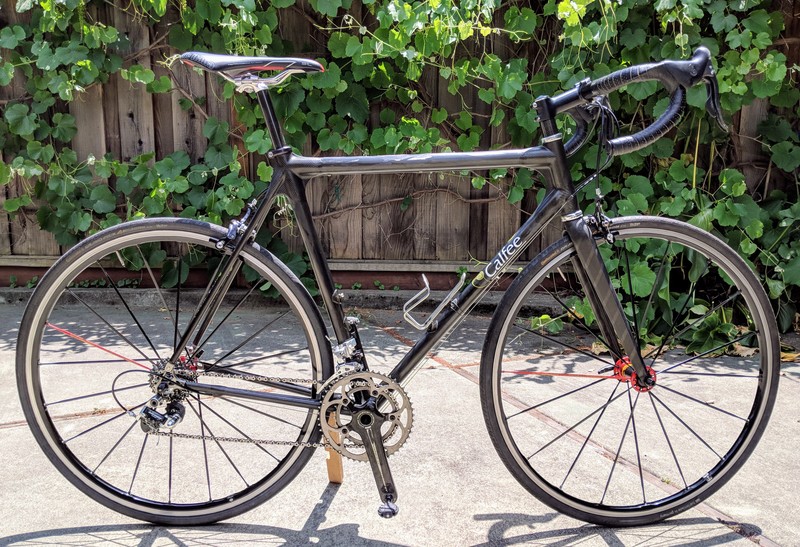 The first road bike I bought as an adult, my dot-com boom bike. It was originally outfitted with aluminum Campy Record and Rolf Prima wheels. In 2006 I upgraded to a Campy Record carbon gruppo with the skeleton brakes and replaced the Rolf wheels with Mavic Ksyriums (a decision I always regretted).
This beautiful beast was my primary ride from 2000 to 2009 when I bought the BMC. For the next nine years it was my winter bike and rain bike, until finally I had to admit I wasn't going to ride it any more. I sold it for a whopping $500 to a guy who took it away on the back of his tandem.
2000 Calfee Tetra, 56cm
2005 Campagnolo Record 10 speed gruppo
Compact crank, 11-25 cassette, newish chain
Mavic Ksyrium ES wheels
Selle Italia saddle
FSA alloy handlebars
Ritchey stem
Speedplay pedals
16.8 lbs
The top bolt of the front water bottle mount was cracked in a freak accident ten years ago. I expoxied it back on and added steel wire for extra support. It's been fine since then, so it's just a cosmetic issue.